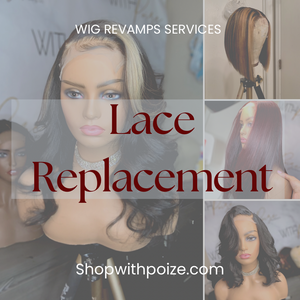 With Poize
Lace Closure Replacement
Regular price
$125.00
$0.00
Unit price
per
Service includes: replacement of lace, bleach knots, shampoo and style of wig unit.
1. Purchase this service. Purchase a lace closure from our store if you need us to provide one. Lace closures take 5 business days to receive. Then, an additional 1-5 business to complete your wig order.
2. Ship extensions to the address below or contact us for drop off location and time if you are local. If you decide to ship to us, please provide us a tracking number to info@shopwithpoize.com.
Ciera Canady
With Poize
11230 Hickman Mills Dr
Kansas City, mo 64134
3. The wig is made within 3-5 business days and the estimated shipping time of 2-5 business days depends on the speed of the post office. If you are local, pick up is available.
4. A tracking number will be provided once wig has been completed and has been shipped via USPS if you have decided to have your wig unit shipped. 
For additional security, check out our "Wig Gripz" to prevent any slipping! 
***Custom wigs include:
Knots Bleached
Minimal Hairline Plucking
Shampooed & Conditioned
Parting (if desired)
Elastic Band
Styled