• hair hack • hair tips • tape ins
The real scoop on tape-ins is that they are not for everyone. In fact, they are ideal for a small number of us. If you are used to wearing your natural hair straightened and maintaining it, then tape-ins could be your next install.  The key is to texture match. We have kinky straight, straight, wavy, and curly textures available. Kinky straight silks out just like a natural's silk press. It's to die for, really. The process is having your hair sandwiched in between two pieces of tape in extensions with a stick adhesive. Upon removal, an adhesive remover is applied...
---
• hair tips • wig measurements • wig tips • wigs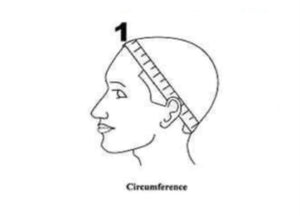 So many details go into wig making. From the quality of hair used, to the perfect measurements, to the way your want your curls to fall, to the positioning of baby hair, if applicable. But to us, the most important is the fit because wigs are not one size fit all. Why? Because our heads are all shaped differently.  We like to ensure quality and we want you to enjoy your investment, so we have put visual diagrams if the measurements needed using a soft measuring tape throughout our website. To ensure your wigs fit like a glove, we recommend...
---
• lace • lace closure • lace frontal
We are here to make your life with extensions easier! Most likely if you are reading this, you are a beginner, so let's break it down for you. By the time you finish this quick read, I hope you will have a full understanding between the two and are satisfied with your purchase from us! A lace closure is what we provide the most of. Why? It's beginner friendly, lasts longer, quicker to install, can look like a frontal, and less maintenance! A lace closure comes in 4x4, 5x5, 6x6, and 7x7 named off of their measurements in inches by...
---
• hair care • hair extension care • hair tips • wig care • wig tips
HAIR DO'S - - Use our matrix long lengths trio package for shampoo, conditioner, and leave in treatment as needed. - cleanse & condition hair using cold water - apply leave in hair conditioner while hair is wet. - Use Minimal product to avoid a heavy, greasy residue. - Take wig unit off every night to further longevity. - always allow your hair to air dry using cool air or a fan for the best results - if you wear wigs everyday, alternate between 2 wigs to further longevity of both wig units. - consult with a professional for proper cleansing...