Meet the Stylist/Owner
Hi Everyone! My name is Ciera and I am a natural hairstylist and wig artist. I graduated with a major in Business-Finance from Park University and cosmetology from Entourage in Overland Park, Kansas. I am thrilled to be able to put all of my schooling into use! I specialize in natural hair and glueless wigs. I love helping women feel beautiful inside and out. Their reactions always keep me going. Check out what I have to offer to make your daily hair maintenance a breeze!
Book with Ciera Rose
Blog
The real scoop on tape-ins is that they are not for everyone. In fact, they are ideal for a small number of us. If you are used to wearing your...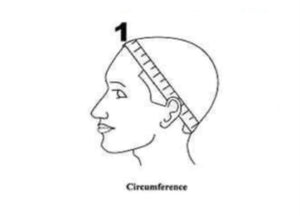 So many details go into wig making. From the quality of hair used, to the perfect measurements, to the way your want your curls to fall, to the positioning of...
We are here to make your life with extensions easier! Most likely if you are reading this, you are a beginner, so let's break it down for you. By the...
Need Assistance On Finding Your Wig Size?
Use a soft measuring tape and the diagram above for your measurements. Sizing is important as no wig is one size fits all. Our wig units are glueless, so we need accurate sizing to provide the snug fit you need for a glueless fit! Soft measuring tapes can be found at walmart, craft stores, etc.